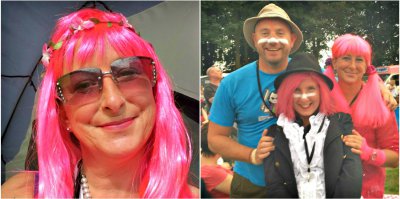 "Applying on your own – no problem, you'll make plenty friends in our team"
Written by Jo Bennet, 48.
Events volunteered include: Rewind, V Festival, Download, Carfest, Glastonbury.
When my friend said she didn't want to go to a festival that I wanted to go to someone suggested volunteering. Festaff stood out as one of the very best. It was so easy to apply and unlike some other companies there wasn't a full ticket price outlay! It was one of the greatest decisions I have ever made. From the minute I got there I wasn't on my own....
5th year of volunteering.
I am starting my 5th year with Festaff and the summer can't come quickly enough! I have saved a ridiculous amount of money over the years that I have been with Festaff and seen countless fantastic bands on the UK's biggest stages!
Make friends for life.
I have made lots of great friends that I meet up with every year and so many amazing memories that will be with me forever. We call it our Festfam, and just like other families we welcome new arrivals with open arms. Come along and join the fun.
I am so glad she didn't want to go. I would have missed out on all this!
Don't just think about it, do it! You won't regret it.
Jo Bennett