Festival Jobs and Work
The best festivals in the world need the best staff. Whether you've never been to a festival and are looking to try something new, or if you're a regular attendee after an opportunity to see it from behind the scenes - there's a volunteer role to suit you.
We're on the hunt for a huge range of festival volunteers to work at some of the UK's best known festivals. There's a wide range of events to choose from including Glastonbury, Kendal Calling, Camp Bestival, Creamfields, Bloodstock Open Air, 80s Rewind Festival and more.
What jobs are available at festivals?
Whatever your skill and background, we can usually find a volunteer role that will suit you. Our main volunteer positions range from stewarding, wristbanding, info point personell, and bar work and more.
Read below to find out more, or if you've already made up your mind, click here to apply to volunteer .
---
Gate Steward/Wristbander
As the first person to greet attendees, you'll help with the processing of customers. You'll usually be required to fit wristbands in exchange for the customer's ticket, keeping all the stubs and bands secure to tally at the end of your shift. Find out more about wristbanding volunteer jobs at festivals.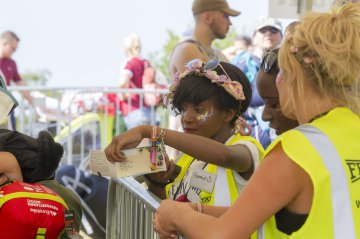 Steward
As a steward, you'll be the port of call for campers to help them find their way around, directing attendees to key points in the campsite (and wider festival grounds), checking on amenities and generally helping anyone in need. Find out more about stewarding volunteer jobs at festivals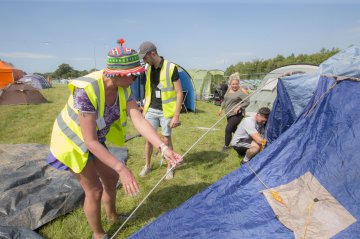 Info Point Steward
The go-to person for everything an attendee needs to know, you'll be giving information to festival-goers and feeding back any key concerns, questions or needs to the Festaff management team. Find out more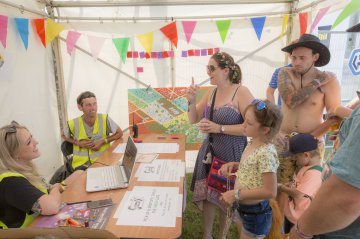 How can I apply to work at a festival?
Take a look at our festivals page to find out which events you can attend, or find out more about our stewarding, wristbanding or bar work jobs to see what's required. Once you've decided what festivals you want to apply for, simply create your profile and submit your volunteer application. We'll get back to you within two weeks let you know if you're successful.