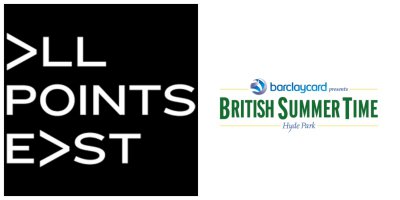 ALL POINTS EAST – Victoria Park London.
Some of the planets finest acts are descending on London Parks this summer and you can catch them all for only £10 per day as part of the Festaff volunteer team guaranteeing that you'll be finished in plenty time to get yourself into good position for the day's headliners.
In late May/Early June All Points East returns to London's Victoria Park to bring you…
May…
Fri 24th Chemical Bros, Sat 25th The Strokes, Sun 26th Christine and the Queens, Fri 31st Bring Me The Horizon.
June…
1st Mumford & Sons, 2nd Bon Iver.
With Festaff you can see all 6 APE headliners for less than the standard price ticket for one day!
BRITISH SUMMER TIME – Hyde Park, London.
July sees the big hitters return to the Hyde Park in the heart of bustling London. Again for £10 per day you can experience some of thee BIGGEST artistes on the planet without costing you the earth!
July…
Fri 5th July Celine Dion, Sat 7th July Barbra Streisand, Sun 8th Stevie Wonder
Fri 12th Bob Dylan/Neil Young, Sat 13th Florence & the Machine, Sun 14th Robbie Williams
See all six headliners for around 50% of the ticket price for one day general ticket!
Staff will work with you on breaks, at both BST & APE, if there's a band you are desperate to see through the day – but please ask when you get to site before you start your shift and not 5 mins before they are due on stage. We will work with you if you work with us.
We look forward to working with you on a fabulous run of events in the nations' capital.
The Festaff Team.