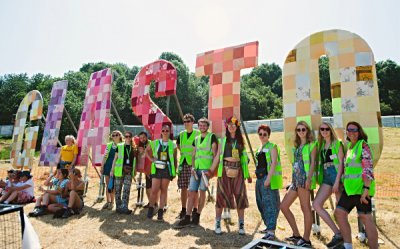 Information for Glastonbury 2020 volunteer applications.
When will general applications be open for Glastonbury's 2020? Any places that are available for general applications to the public will open on 1st March 2020 - TBC.
You must also select a sister event to partner your Glastonbury application - you may pick from any of the events on our roster apart from those at BST and APE. We ask you to support us at another event as part of the deal. Both events must be completed before Glastonbury bond is returned.
What is the deposit for Glastonbury 2020? Glastonbury will be £240 in line with the events policy. A £15 admin fee will be deducted before deposit is returned. Deposits will be returned after both Glastonbury and selected sister event are completed to a satisfactory standard (No deposits will be returned on site)
What day/time do I need to be available for Glastonbury 2020? You need to be on site 2-6pm on Monday 22nd June and be available until Sunday 28th June at around 6pm. If you cannot make the dates, please do not apply.
Sister events? What are they and when should I apply? We ask all staff who are lucky enough to be part of the team at Glastonbury to support us at another event that summer. They are all the events on our roster apart from APE and BST as these are 1-day non-camping shows. (Please apply for your sister event at the same time as you apply for Glastonbury as more events could be added and deposits cannot be swapped.)
Role. You will be a a gate assistant involved in the public wrisbanding and required to complete 3x 8 hours shifts or equivalent.
ID's will be checked on arrival to site to concur with details held by Festaff.
No ID no Festival – must be Passport, UK Driving License or Photo ID agreed with Festaff prior to arrival on site. You must also produce a copy of the email ratifying the agreed ID.
No ID, or wrong ID, person not on list - no festival
Glastonbury 2021.
How do I optimise my chances of being on the Festaff volunteer team in 2021? Work at least two events in summer 2019 (Excl BST and APE). If you want to give yourself a bigger chance work more than 2 events.
NB. Those who worked two camping events with us in summer 2019 will receive an invite to apply from us early in 2020. All those eligible will be emailed in advance with arrangements.
Receiving and invite does not guarantee a place.Invites are for named person only.