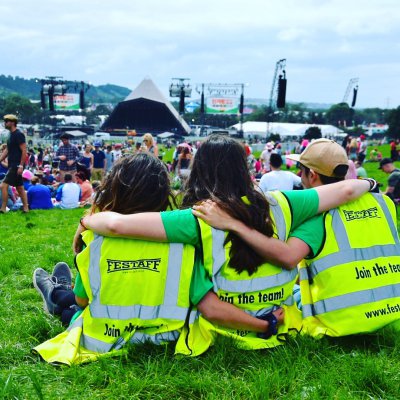 Volunteering at Glastonbury in 2019
We have been asked by a number of you to clarify our position on Glastonbury 2019 and what you need to do to be in the best position to apply and be part of the Festaff team.
We have changed our Glastonbury application policy. To give everyone a fair chance, we are starting a Priority Application List for 2019. To get on this list, you must volunteer at events with us this year.
We are setting the bar at a minimum of 2 events with us in summer 2018.
Complete 2 weekend events with us this summer 2018 and you will put you on a Priority Application List for Glastonbury 2019.
90% of volunteer shifts are completed before bands hit the stage.
Not one of our volunteer staff worked headline shifts at Glastonbury 2017, leaving you to enjoy the biggest acts on the planets.
Get on our team in 2019 and you will be invited back to be part of the 2020 team, celebrating Glastonbury's 50th Birthday! That's a party none of us wants to miss.
As per previous years all volunteers will also be required to complete a sister event next year to link with their Glastonbury application. Events attended this year cannot be used as a linked event for 2019.
NB. Any events apart from BST Hyde Park & All Points East can be used.