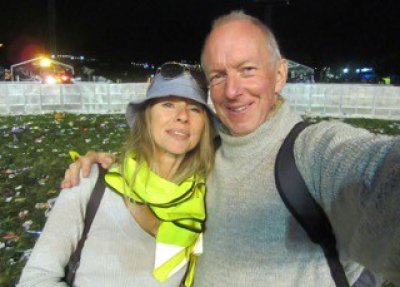 Festival novice at mature age is no barrier.
Written by Robin Brackenbury, 60+.
Events volunteered include: Kendal Calling, BST Hyde Park & Glastonbury.
I'd never been to a music festival before so, during 2012, I thought it would be a nice thing to do with my son. I subsequently heard about Festaff around a campfire and have never looked back!
I've worked for Festaff nine times since then and have never had anything but a good time. They are absolutely streets ahead of other providers of staff for festivals they really do look after you.
Don't be afraid to volunteer on your own.
I've always gone by myself but have never found this to be a problem. People of all ages often invite you to join their little tribe of tents if they can see you're by yourself.
A bit more luxury than the paying customer.
Festaff always have their own campsite, often with hot showers, and there is usually plenty of space around the tents - not at all like the paying public!
Working on the gates, which is Festaff's speciality, is just about the best job at any festival and their staff do their best to allocate your shifts around the bands you don't want to miss.
The shifts are busy and there is always plenty of positive interaction with festival goers on the gates. There's lots of good, friendly support and tips from the supervisors and those around you with previous experience.
You definitely don't need to have done anything like this before. Just bring a positive, can do attitude, a calm, relaxed and easy-going approach, be ready for anything and wear a genuine, ready smile. If you do, you will have the best of times!
Go Festaff!
Robin Brackenbury