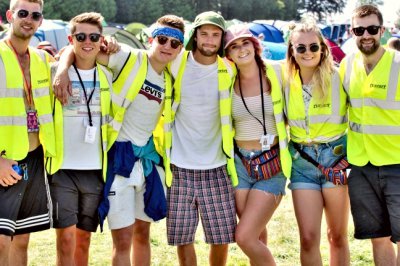 Enjoy music festivals with friends this summer without breaking the bank as part of our volunteer team.
Festaff are pleased to announce that applications for volunteer places in summer 2019 will open on Friday 1st February at 12 noon.
We have many of your favourite festivals back for 2019 as well as new events - All Points East, Victoria Park London, and Beat Herder with more to be added later..... we are currently talking to two events. (Full list of confirmed events at the end of post).
Why volunteer with Festaff?
£10/£15 is your only cost. No full ticket lay out for all events (excl. Glastonbury).
Receive a weekend pass to enjoy the event.
Abundant time to enjoy the event with friends.
Volunteer for a small number of hours, usually 2 x 8 hour shifts, with friends in light customer facing roles.
See the biggest and best bands/DJs in the world, as well as comedians, cooks etc!
Get fed whilst on duty- most events offer a meal per shift
Reside in a safe staff campsite with access to facilities such as FREE showers and FREE mobile charging.
Add volunteering to your CV and/or complete your work experience on site. Great for those wishing to pursue a career in events.
Be part of the team and make friends for life.
Get your deposit back at end of the weekend once shifts all completed!
Deposits and admin fees.
Most events are a £20 deposit with a £15 admin fee, so £35 to put down in total.
BST Hyde Park and All Points East are a £10 admin fee this year.
Glastonbury is £240. £15 of which is admin fee.
We aim to respond to all applications within around 2 weeks.
Payments.
You can now use most credit cards as well as PayPal to pay.
Community/Forum Page
We will be adding this page to our website for summer 2019 so you can converse with fellow volunteers, arrange car share, swap advice, meet up on site, share photos and experiences.
Applying.
If you have applied with us before, you can login to your existing profile and select the festivals you wish to apply for. If you have forgotten your password, click here to reset it. For new applicants, the system is simple and takes 5 minutes to complete click here
Glastonbury 2019.
We will contact those who qualify for an invite and also those who will be on our Priority Application List in the next few days. All remaining places will be open for public applications on 1st April 2019. You must select an event to sister with your Glastonbury application. (Excl BST or APE)
Watching festivals on TV on your own just ain't the same
Full list of events of confirmed events as of 21st Jan 2019....
Neighbourhood Weekender, Beat Herder, All Points East (x6) Isle of Wight Festival, Glastonbury, Love Supreme, Rewind (North, South & Scotland), CarFest (North & South), BST Hyde Park (x6), Bloodstock, Sundown, Cool Britannia, Belladrum - Tartan Heart, & Creamfields.
The Festaff Team