We are not currently recruiting for any events but please sign up for our newsletter and join us on Facebook and Twitter so you get to know first and foremost of all the opportunities for summer 2015. We will have all the events we offered you in 2014 plus a few more new events.
Want to attend the biggest music festivals in the UK for less cash than a trip to the cinema?
Then volunteer with Festaff!
A £15 admin fee is your only expense. The £20 bond per event is given back at the event in cash! No waiting around for cheques or bank transfers.
See the biggest and best bands/DJs in the world at the finest festivals in the UK.
Volunteer and party with your friends.
Plenty of free time to enjoy the event.
Reside in the secure staff campsite with free showers – avoid the queues for toilets and showers with access to the staff area.
Volunteering looks great on your CV to potential employers.
Get to see how the event works backstage and be part of the TEAM that helps to stage the event.
Staff Testimonials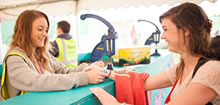 "Working with Festaff is a great way to earn your ticket. I'd definitely do it again because it saved me money and let me meet loads of new friends."
Hannah Buchannan
"Great people, great atmosphere, great fun!"
James Houston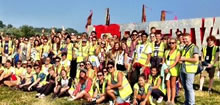 "Amazing experience! Had so much fun and met some great people!"
Hayley Gibson
"Festaff are a great group to volunteer for. It allowed me to see so many great bands and have some wicked times! Would definitely do it again, there's no better way to really be part of the event!"
James Ormston