It might sound strange to volunteer at an event that you are trying to attend for fun, but hear me out because it is possibly one of the easiest ways to earn your way into the festival. Right about now, most of you are planning what you'll do with your time off this summer – get some work experience on your CV? Hang out with friends? Head along to your favourite music festival? Finally organise your sock drawer? Well, the sock drawer can wait. What if we told you that you could do all three at once by volunteering with Festaff?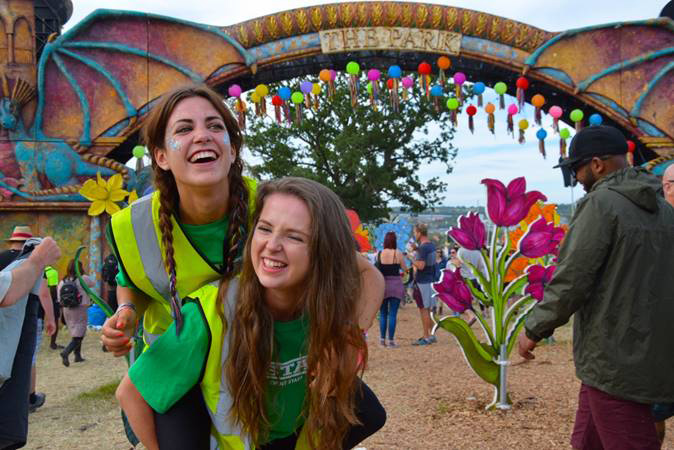 Festaff are the UK's leading festival volunteer company, giving you access to some of the UK's top music festivals, and applications are open NOW. Since 2008, the company have welcomed around 16,000 people into the team, with students looking to gain top-class industry experience making up 60% of this total. With facilities including meal vouchers and a flexible shift/free time balance, Festaff provide an ideal platform to gain invaluable work experience while also having some fun.
But if that doesn't have you reaching for the SPF 50 and your best Ray Bans, we've pulled together the top five reasons you should apply with Festaff for your best summer ever!
1) Get into the best UK festivals
We've all felt that nausea – the initial excitement as you see some of your favourite band logos dotted across a festival bill, followed by the eye-watering ticket price at the bottom or, even worse, the dreaded SOLD OUT stamp. But, don't worry, this is usually the best time to volunteer! Festaff have a roster of over 25 of the biggest and best UK festivals – including Creamfields, 3x Rewind Festivals, Camp Bestival and Glastonbury. Their reputation as one of the best volunteer companies means Festaff will spend a remarkable 130 days on-site this summer. And with positions including wristband issuers, stewards and bar staff, there's something for everyone – so we'll see you at the gates!
2) Volunteering helps save money
Ok so maybe you've been savvy and saved enough for the festival ticket, but have you budgeted for all the add-ons of the weekend? There's the cost of your food, water, coffee, even the baby wipes you'll substitute showers for can set you back a few quid. The expenses mount quickly for a few days away, but not through volunteering with Festaff. For an admin fee of just £15 not only will you see your favourite bands, but you'll receive shower facilities, free phone charging, access to kettle & hot drinks in the staff campsite and meal tickets - Yummy! Find out more ways to save money at festivals.
3) Invaluable work experience
Hands up if you're studying events or interested in the festival and music industry? Great. Now hands up if you've managed to get experience in these industries? Not so great. It's a tough career to crack, but volunteering with Festaff not only allows you to add to your CV, but it means you can make some great contacts to use along the way. And for anyone about to graduate, it's not too late! Festaff offers the chance to move up through the ranks to become paid members of staff, with 60% of their current employees starting out as volunteers. Even their oldest member of staff is 79!
4) Amazing shift/free time balance
Company founder, Sandy Reid, started Festaff after decades of working and attending music festivals - and with a record collection that puts the most avid collector to shame, he knows how it feels to be passionate about music! Thus Festaff's ethos is that if you work to the festival's expectations, you should enjoy your wristband and see your favourite acts perform. You are obliged to work at least one 8-hour shift in exchange for your wristband; this does vary depending on the duration of the festival but the positions are enjoyable and you get a glimpse behind the scenes of the UK's biggest music events.
5) Make new friends for life!
You'll probably see people online talking about the #FestFam – this is because Festaff are unlike any other volunteer company when it comes to community spirit. Each volunteer helps the other – whether it be covering a shift so someone can see their favourite band, or fetching lunch for their team – which is why Festaff see such a huge number of repeat volunteers.
Nothing compares to the thrill of seeing your favorite artists alongside tons of game-changing newcomers in one epic weekend. So if you wish to join the Festaff crew and start making memories of a lifetime, sign up to volunteer online!