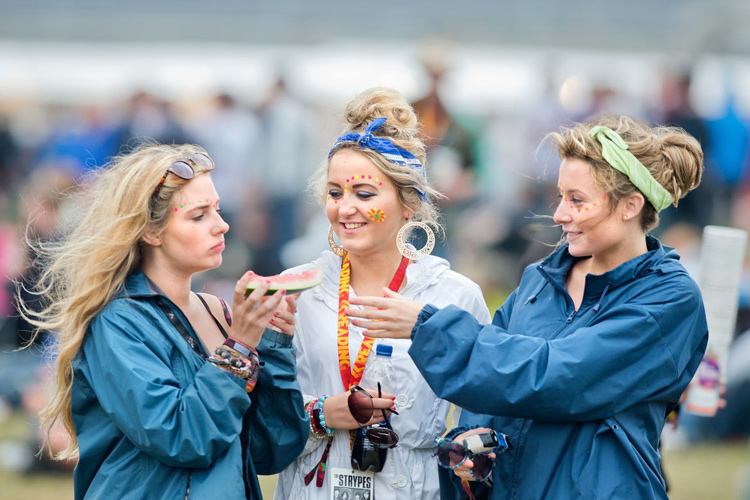 Stephen Paul volunteered with Festaff in summer 2016 at both Glastonbury and at Belladrum Tartan Heart up in the Scottish Highlands. In between doing so, he wrote a great article about his experience for the Guardian, have a read!
"Last month, I got into Glastonbury without paying for a ticket, and I didn't even have to climb over the fence. I did this by volunteering for Festaff – my job was wristbanding festival staff as they arrived on site. Apparently, Adele doesn't count as "staff" – disappointing.
I was lucky all my shifts were completed before the festival itself even began; mostly you are required to work at least one shift during the festival. I was even luckier that my workplace was a brisk five-minute walk from our campsite – not the treacherous, 40-minute, muddy, cross-site slog some had to weather. I remember issuing wristbands to several workers who'd fallen over in the mud (one had managed to break their arm).
Three eight-hour shifts of relatively easy labour – in a waterproof, wind-shielded cabin – passed by in no time. A heady fusion of disco-funk and pop classics, curated by our resident DJ-in-chief, Christian, sound tracked every shift. It didn't exactly feel like work: we were at Glastonbury, after all. A snazzy fluorescent jacket was even thrown in for good measure.
All in all, I got a good deal – and I urge all cash-strapped music fans to do the same. As ticket prices increase year upon year – outstripping inflation rates – working for your ticket becomes an ever more attractive alternative to paying hundreds of pounds.
Group applications are actively encouraged by the organisations that offer volunteer work, and most will work to ensure friends are on similar, if not the same, shift patterns."
Thanks for the kind words Stephen!
Want to read the full article? Check it out on The Guardian website here:
How to work for your festival ticket